The Review
Our parent company, Steer, produce an industry magazine, The Review. Since its first publication in 1992, The Review has grown into a firm favourite with our clients. It features thought-pieces, client interviews and project updates as well as highlighting company achievements and new members of the team.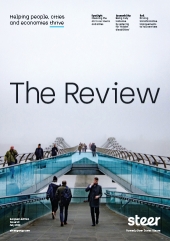 Issue 50
Cleaning the air in our towns and cities
Feature articles include: Being truly inclusive by catering for 'hidden disabilities'; Driving transformative improvements to rail services.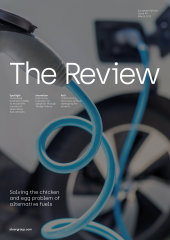 Issue 49
Solving the chicken and egg problem of alternative fuels
Feature articles include: innovative business models to ensure the success of alternative fuel vehicles; improving forecasts of adoption through 'Nudge' theory; transforming the future of rail without damaging the present.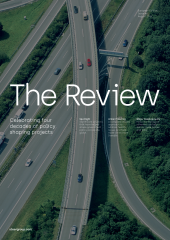 Issue 48
Celebrating four decades of policy shaping projects
Feature articles include: significant projects that have helped shape government policy across the globe; a complete street approach to address health issues and help make cities more liveable; how new transport schemes can help deliver more homes and jobs.